Treatment for Diabetic Foot Ulcers
Generally these are recommendations to protect us from diabetic foot ulcer :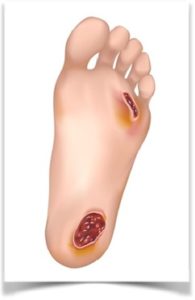 diabetic shoes
casts
food braces
compression wraps
shoe inserts to prevent corns and calluses
                   We could  also remove diabetic foot ulcers with a debridement, the removal of dead skin, foreign objects, or infections that may have caused the ulcer in the worst case. The most successful method along with the above is a Stem Cell Treatment
Stem cells treatments an emerging treatment tool
            *Stem cell treatment for diabetic foot ulcer is gaining raising importance in today's world as it provides a high rate of recovery and the use of adult mesenchymal stem cells is gaining importance given in a huge breakthrough supported by clinical trial.
            * The present study on" Induced Wound Healing by Application of Expanded Bone Marrow Stem Cells in Diabetic Patients With Critical Limb Ischemia "that has got recent importance .
"Diabetic foot (DF) is a concomitant illness of diabetes mellitus. Diabetes is one of the main causes of non-traumatic amputation worldwide due to severe peripheral arterial occlusive disease with chronic critical limb ischemia being the most abundant problem. Ulceration occurs as failure of oxygenation, nutrient supply and progressive occlusion of larger blood vessels often exacerbates pre-existing microvascular abnormalities.